Need help with signature
---
[ Follow Ups ] [ Post Followup ] [ Ukiyo-e Q & A ] [ FAQ ]
---
Posted by Noel Chiappa on March 15, 2002 at 01:02:23: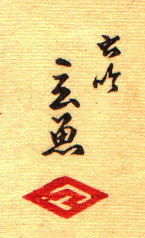 Hi, I've got a group of prints here, with a signature I can't decipher. The main
part of the print is by Toyokuni III, but there is an inset panel which has defeated
me. I thought I'd see if anyone recognized it. Any help gratefully appreciated.
Noel
---
---