Re: triptych questions
---
[ Follow Ups ] [ Post Followup ] [ Ukiyo-e Q & A ]
---
Posted by Hans Olof Johansson (83.253.244.170) on October 11, 2013 at 10:20:20:
In Reply to: triptych questions posted by Barbara Dey on October 11, 2013 at 06:19:13: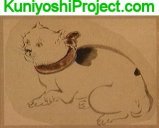 Barbara,
This is a print designed by Kuniyoshi and published about 1848. Apparently it belongs to a series of four triptychs with the title "Fashionable Quartet of Flower, Bird, Wind and Moon" (Jisei kach˘fűgetsu). You can read more about it at http://www.kuniyoshiproject.com/Miscellaneous%20Genji%20triptychs.htm .
Best regards,
Hans Olof



---
---