Date Seal 1872?
---
[ Follow Ups ] [ Post Followup ] [ Ukiyo-e Q & A ]
---
Posted by Michael (71.202.78.81) on January 03, 2014 at 04:32:29: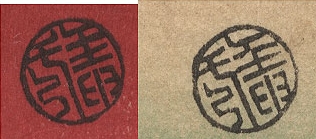 http://data.ukiyo-e.org/uploads/images/c3a5a8e2ea57ef970a7ad3301a4ab7e7.jpg
Here are 2 date seals from a Kunichika tryptich. Looked this up in my Hotei Ency and the right side looks like 1872 but the left side does not quite match any from that year (though 1872-III in Hotei is too blurry to be sure). Anyone know? Date seal (as well as carver & publisher) specialized search might be a good thing to add to http://ukiyo-e.org/ search...


---
---