Corect kanji for H\;#333;rai Shunch\;#333;
---
[ Follow Ups ] [ Post Followup ] [ Ukiyo-e Q & A ]
---
Posted by Noel Chiappa (98.166.132.137) on February 18, 2014 at 16:18:49: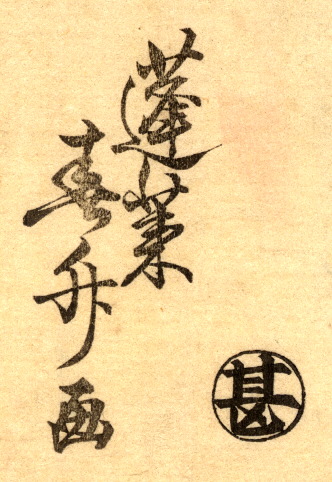 As part of a project I'm working on (almost complete, hope to announce in a few days), I've been entering kanji for artist's names. I have a question about one entry.
Roberts ("Dictionary of Japanese Artists") gives the kanji for Hōrai (a name used by Utagawa Shunchō 春升) as 蓬来, but as you can see from the image of a verified signature of his, the second character looks a little too complex to be 来. I'm thinking it might be 莱, which also has the reading "RAI". Or am I totally confused, and it is 来 - or perhaps a third character?
Thanks in advance for any assistance (and if the Unicode in the title line doesn't work, sorry :-).
Noel



---
---