Re: Identification of woodblock prin
---
[ Follow Ups ] [ Post Followup ] [ Ukiyo-e Q & A ]
---
Posted by F. R. Abbe (71.178.29.63) on March 20, 2014 at 02:28:02:
In Reply to: Re: Identification of woodblock print ar posted by Noel Chiappa on March 19, 2014 at 19:44:19: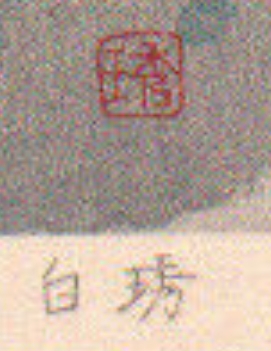 Thank you for your kind answer.
A Japanese-speaking acquaintance of mine told me this evening that the writing 白琇 reads Hakushu; he is not able to interpret the seal. (Online jp-en dictionaries translate the romaji Hakushu as "applause, clapping" somewhere and also as applause.)
A Google search of Hakushu does not bring up any woodblock print artist (although there is a western-style watercolor on paper signed Hakushu auctioned in 2005)...
I have attached a larger image of the seal that I hope it might help the identification. Thanks again.
Cheers


---
---