Re: Need Hiroshige-Help
---
[ Follow Ups ] [ Post Followup ] [ Ukiyo-e Q & A ]
---
Posted by Willie (66.189.23.235) on April 30, 2014 at 18:44:17:
In Reply to: Re: Need Hiroshige-Help posted by Gordon Friese on April 29, 2014 at 21:11:37: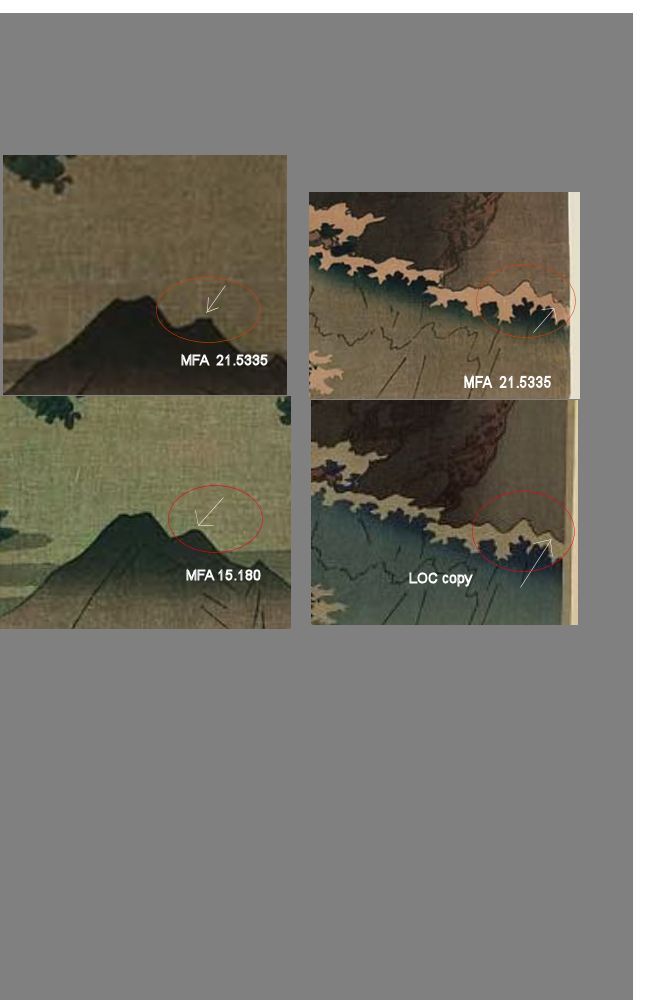 Gordon,
I am inclined to think that both of the later prints are from recut blocks, albeit very good copies. I have (hopefully) pasted a few examples to show my reasoning. Although I took the examples from the MFA and LOC prints you have mentioned you might find the following link helpful:
http://www.christies.com/lotfinder/ZoomImage.aspx?image=http://www.christies.com/lotfinderimages/d54163/d5416372&IntObjectID=5416372
Also I believe that one of the examples from Artlino listed on the ukiyo-e.org website is the same (blocks) as the LOC example judging from the visible wood grain.
This is always a learning process for me so take it with a grain of salt.
Willie
If the image does not show up please use this link:
http://i1061.photobucket.com/albums/t463/how586/Supplementary%20images/Monkeybridgedetailcomparison_zps4d02cadd.jpg


---
---