Toyokuni II print?
---
[ Follow Ups ] [ Post Followup ] [ Ukiyo-e Q & A ]
---
Posted by David (50.133.132.26) on December 25, 2014 at 22:25:03: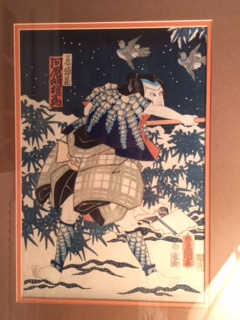 Hello all, on the reverse of this print is a sticker stating that it is by Toyokuni Utagawa II (1735-1835), that the carver is Horinaga, and the printer is Ettsuka. However I have not found any other examples of the image via image lookup on Google or here, or when scanning the images Google returns for Toyokuni, so I thought I might ask the experts for confirmation or disconfirmation and identification. Apologies for the picture quality.
Many thanks.


---
---