Re: Help identifying a series of kunisad
---
[ Follow Ups ] [ Post Followup ] [ Ukiyo-e Q & A ]
---
Posted by Paul Griffith (153.219.186.127) on April 29, 2015 at 03:54:07:
In Reply to: Help identifying a series of kunisada pr posted by Lena Hessing - Musee on April 23, 2015 at 18:04:52: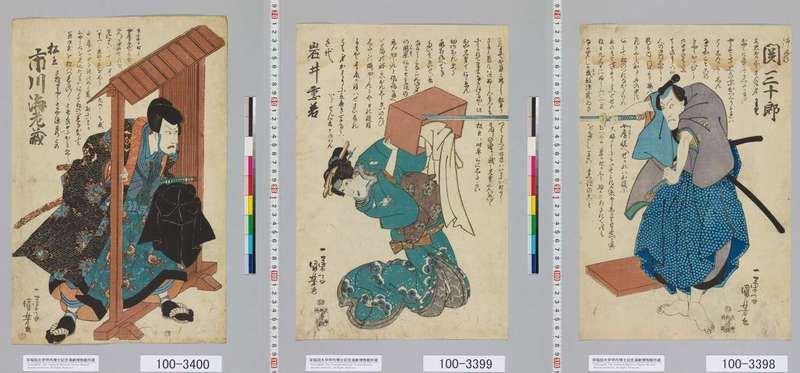 Your triptych by Utagawa Kuniyoshi depicts 'Terakoya' ('The Village School'), the final scene of Act IV in the play 'Sugawara Denju Tenarai Kagami' ('Sugawara's Secrets of Calligraphy'). This performance was staged at the Morita-za (theatre) in the 11th month of 1835. From the left, we have Matsumoto Koshiro V in the role of Matsuomaru; Iwai Shijaku I as his wife Chiyo; and Ichikawa Ebizo V as the school master Genzo.
It is interesting to note that these same woodblocks were re-used in the 3rd month of 1838 (see above) for a different production of this play at the Kawarasaki-za. At that occasion, Shijaku played the same role of Chiyo again, but Ebizo took the role of Matsuomaru, and Genzo was played by Seki Sanjuro II.


---
---