Kitagawa Utamaro
---
[ Follow Ups ] [ Post Followup ] [ Ukiyo-e Q & A ]
---
Posted by David (87.81.224.240) on May 23, 2015 at 20:47:22: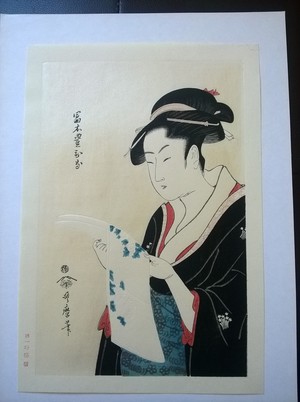 Hello to all, I can imagine everyone here know this work, But please, I would like to know what do you think about it, on it's back (on the frame/removed) is written Utamaro ca.1792 mica ground, Title: Tomitoto Toyohina and some information about Kitagawa Utamaro and singer Tomitoto. It was professionally framed around 1980 ( I do think). The framing company is active still, but they do not answering my question who is the signed framer on its back..
On the print is karazuri (embossing).
The print is very well made, I can see, as well it is well preserved, it looks like it was not exposed much, but of course as I learned here, I do think now it is later copy. I am not professional, I purchased it cheaply on antique market, but I do love it even if it is a copy. If it is the copy, can somebody help me to find out when it was made ? (if it is possible) I have been thinking about that red text on the left, it should say something about, but I not able to find out what does it say.. Please could you help ?



---
---