Re: Help In Identifing Woodblock Triptyc
---
[ Follow Ups ] [ Post Followup ] [ Ukiyo-e Q & A ]
---
Posted by Hans Olof Johansson (83.255.36.237) on July 10, 2015 at 20:28:23:
In Reply to: Help In Identifing Woodblock Triptych Pl posted by Ross Kremer on July 07, 2015 at 17:28:23: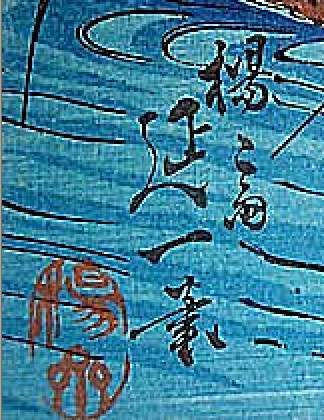 Ross,
Your image is rather blurred, but I strongly believe that the artist is Nobukazu, who was a pupil of Chikanobu and active as a print designer in the late 19th century. Above is another example of his signature ("Y˘sai Nobukazu hitsu").
If you provide better images of the text in the upper right and the lower left corners, you can probably get more information about the triptych.
Best regards,
Hans Olof


---
---