Re: who is this artist?
---
[ Follow Ups ] [ Post Followup ] [ Ukiyo-e Q & A ]
---
Posted by Hans Olof Johansson (83.255.47.64) on January 18, 2016 at 22:05:19:
In Reply to: who is this artist? posted by pascal hemon on January 18, 2016 at 18:53:28: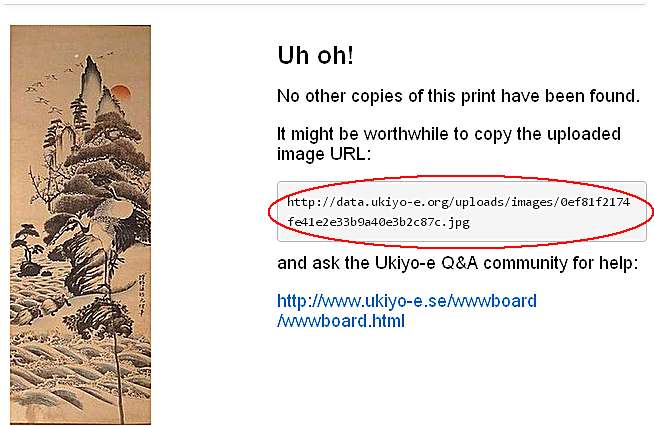 Pascal,
You seem to have problems posting images with your messages.
The easiest way is using John Resig's "Ukiyo-e Search" (http://ukiyo-e.org/) to check if your image matches any of the prints in his database. If you don't get a match, you'll see a message looking like the one above. Then copy the address string exactly as it reads in the box marked with the red oval. Finally you paste the address string into the "Optional Image URL" box in your message in this forum.
Best regards,
Hans Olof


---
---