Re: need help identufi
---
[ Follow Ups ] [ Post Followup ] [ Ukiyo-e Q & A ]
---
Posted by Hans Olof Johansson (83.255.48.143) on March 28, 2016 at 13:04:49:
In Reply to: need help identufi posted by anthony graves on March 26, 2016 at 10:59:58: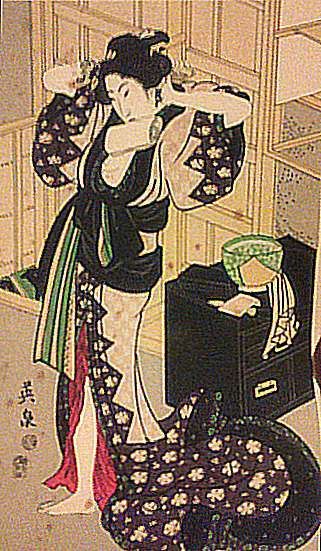 Anthony,
The artist name on your print most certainly reads Eisen (英泉). The circular mark below the signature would be a censor's seal, probably kiwame, and the oblong mark a publisher's seal.
In some respects it looks like an ordinary bijin print by Keisai Eisen (1790-1848), but there are a few peculiarities about it that make me wonder. I don't recall seeing a similar print by him, where his name wasn't followed by the character ga (画), or perhaps hitsu (筆). Also most of his portraits of beauties of this kind carry a title cartouche or a picture inset tying the print to a series.
A good close-up of the signature and the seals would possibly help, and also knowing the size of the print.
Best regards,
Hans Olof


---
---