Re: Another Unknown artist
---
[ Follow Ups ] [ Post Followup ] [ Ukiyo-e Q & A ]
---
Posted by Guy (84.197.53.237) on May 23, 2016 at 17:49:42:
In Reply to: Another Unknown artist posted by Magicsteph on May 21, 2016 at 07:39:50: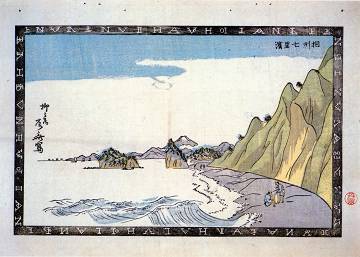 http://harady.com/enoshima/ukiyoe/023.jpg
This a later edition (Meiji or Taisho?) of a famous print by Rûryûkyo Shinsai depicting Enoshima ('Sôshû shichirigahama' or the 'Seven-mile beach in Sagami Province'), first published in the 1810s in small format.
Three slightly later editions in oban format(published late 1810-20s) with a black Dutch-letterd border are known (cfr. the article by Daan Kok in Andon 79: 'Keisai Eisen and his landscapes with Dutch letter borders').
Guy.


---
---