Yoshikazu: publisher?
---
[ Follow Ups ] [ Post Followup ] [ Ukiyo-e Q & A ]
---
Posted by Kurt (49.195.7.229) on June 05, 2016 at 05:29:18: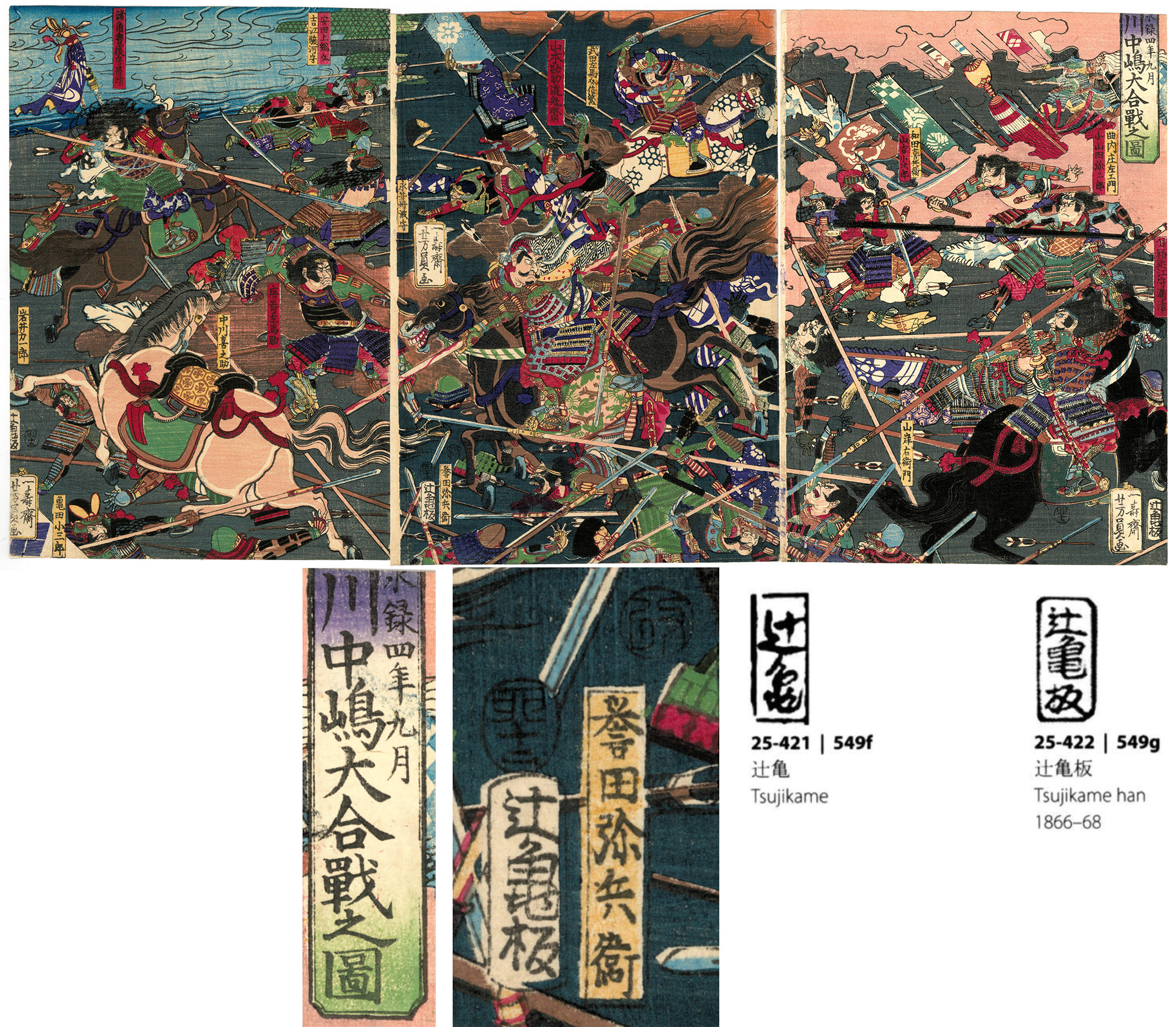 https://data.ukiyo-e.org/uploads/images/b201e9f6f2530609f8beb35d0e654c92.jpg
Hi all,
I am not certain about the publisher of this Utagawa Yoshikazu print.
I have translated the title as:
Picture of the Great Battle of Kawanakajima: Ninth Month and Fourth Year of the Eiroku Era [September 1561]
(Kawanakajima ô-kassen no zu: Eiroku yotose kyūgatsu)
川中嶋大合戰之圖 永禄四年九月
(川中島大合戦之図 永禄四年九月)
The left and right panels have date seals of 卯十二 (rabbit, 12) whilst the centre panel has the date seal as well as the Aratame seal 改, so I take this as being published 1855 (Ansei 2), 12th month.
What stumps me is the publisher: it looks like Tsujiokaya Kamekichi 辻岡屋亀吉 using a Tsujikame han seal 辻亀板. The problem is that when I look at Marks, p.81, publisher seal 25–422 / 549g Tsujikame han, and p. 313 for information relating to publisher 549, Marks has Kamekichi being active c. 1866–1918, and the Tsujikame han seal being used 1866–1868, which is inconsistent with the date seal of 1855.
Might anyone have any insight?
Have I misread the kanji (which is quite possible)?
Any assistance appreciated.
Kurt


---
---