Please help ID
---
[ Follow Ups ] [ Post Followup ] [ Ukiyo-e Q & A ]
---
Posted by Amanda (97.106.226.179) on September 11, 2016 at 21:37:41: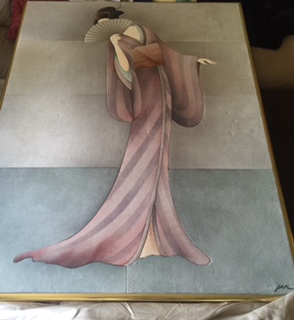 https://data.ukiyo-e.org/uploads/images/2a94446b6aa9f890edb721ff3d38f722.jpg
Can you please help me ID this artwork? It appears to be made of suede. I found a similar work by Norma J. Matsuguma but this is signed simply "jean" (maybe her middle name is jean?). It's large, about 48" tall and 36" wide. Thanks for any info!


---
---