Shuntei print: query on title
---
[ Follow Ups ] [ Post Followup ] [ Ukiyo-e Q & A ]
---
Posted by Kurt (49.195.14.245) on November 05, 2016 at 05:58:04: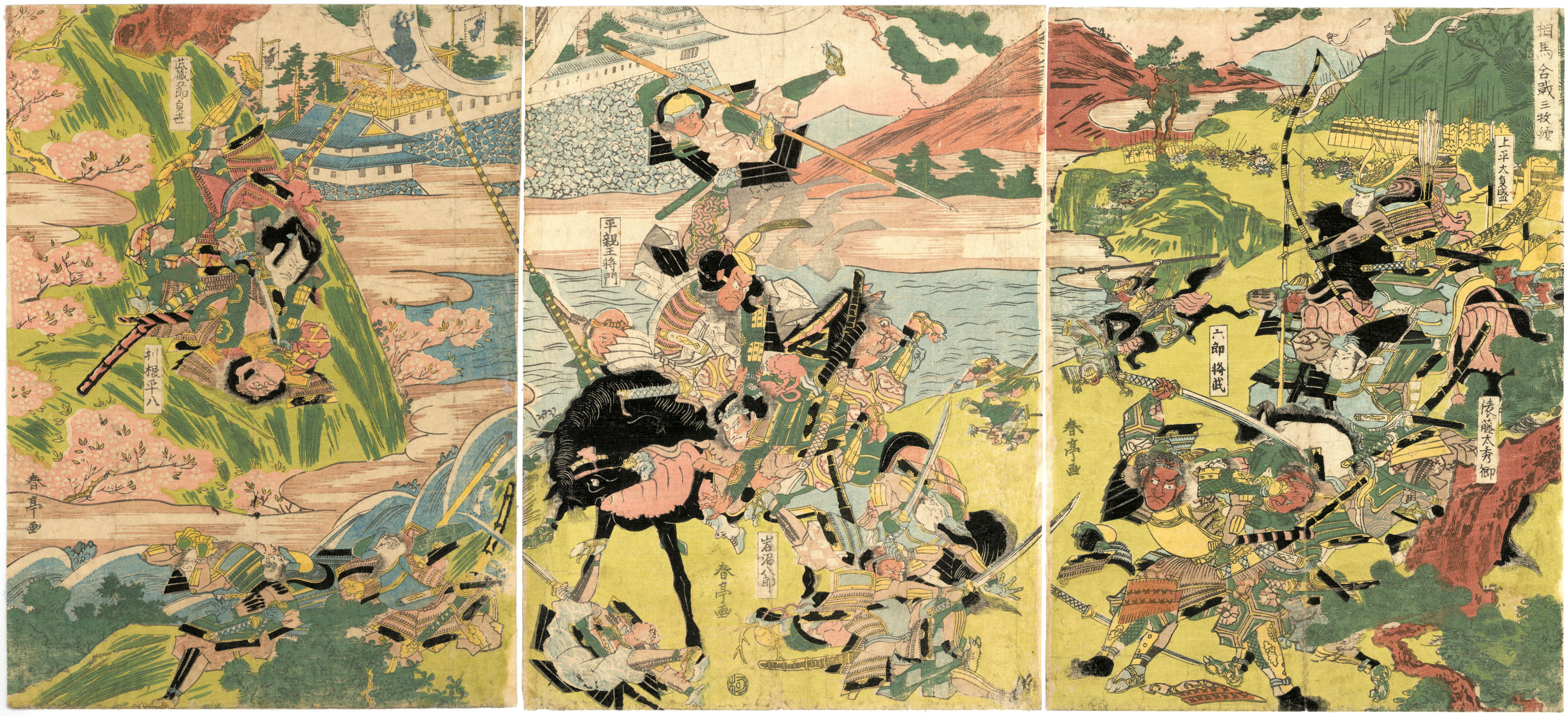 https://data.ukiyo-e.org/uploads/images/7398052feb0a29e3f6a9544bfe986e1d.jpg
Given the collective experience and knowledge you guys have on this forum, just wondering if anyone can offer some insight into the title of this Katsukawa Shuntei print, c. 1810–1820...
The triptych was sold under the name the 'Tale of the Heike: Taira no Masakado', however, it seems quite evident—assuming my translation is OK—that the title cartouche contains the kanji for Sōma 相馬, battle 'kassen' 合戰 (合戦), three 'san' 三, sheet 'mai' 牧 (枚), and continuation/sequence 'tsudzuki' 續 (続), which could be translated as:
The Battle of Sōma in Three Continuous Sheets (Sōma kassen san mai tsudzuki)
相馬合戰三牧續 (相馬合戦三枚続)
So, it is a battle scene in triptych format. However, it is not fully clear what 'Sōma' specifically refers to: Sōma doesn't appear to be the place name of a particular historical battle. 'Sōma' could refer to a clan name or a historical domain name, even though the warrior figures in the image are 10th century and the clan and domain names only appear (according to available references) from the late 12th century.
A quick search suggests that the Sōma Domain (相馬藩 Sōma-han) was located in the southern part of Mutsu Province (陸奥国 Mutsu no kuni), and was ruled by the Sōma clan (相馬氏) c. 1189 until the battle of Sekigahara in 1600, at which point the clan's realm was confiscated by Tokugawa Ieyasu. The family claimed descent from Taira Masakado (d. 2nd lunar month of 940), and in the context of this print, the central figure on horseback is without doubt Masakado. In this regard, has a 10th century battle scene been portrayed to 'pay tribute to' (honour, acknowledge, memorialize, glorify, eulogize) the 'Sōma' clan and its ancestry or pedigree? It doesn't seem a common practice for titles, though I could well be wrong.
If so, does one follow the general convention for battle titles and write it as 'The Battle of Sōma in Three Continuous Sheets', even though no such battle exists, or would it be titled as 'The Battle [for] the Soma [Clan] in Three Continuous Sheets', or some other variation, to suggest this 'homage'?
Any thoughts?
I have looked at the kanji/cartouches (hell, it takes for ever, given my lack of language skills!) for all the figures within Shuntei's scene, and given the protagonists, it is reasonable to suggest that this scene represents the battle on the fourteenth day of the second month of 940, when the government army caught up with and killed Masakado in what is usually referred to as northwestern Shimōsa province. The central figure on horseback is Taira no Masakado (平将門) (d. 940), written here as Taira shinnō Masakado (平親王將門); he seems to be grabbing Iwanuma Hachirō (岩沼八郎) by the back of the neck. In the RHS panel, Fujiwara no Hidesato (藤原秀郷) rides into action, his name is written as Tawara no Tōta Hidesato (俵藤太秀郷); there is Rokurō Masatake (written here as六郎将武); and importantly, Masakado's cousin Taira no Sadamori (平貞盛), written here as Kamihira dai Sadamori (上平太貞盛)… though I don't understand what 'Kamihira dai' signifies or where it comes from. In the LHS panel, the figure of the 15 year-old Musashi Gorō Sadayo (武藏五郎貞世) is depicted tumbling head-first down a steep hill or cliff, his sword aimed at the chest of Tone Heihachi (利根平八).
I simply make an account of those names to suggest that the scene depicts warriors who were present at the 940 battle… a couple of centuries


---
---