Yoshifuji signature and print
---
[ Follow Ups ] [ Post Followup ] [ Ukiyo-e Q & A ]
---
Posted by Kurt (49.199.15.29) on November 30, 2016 at 03:06:49: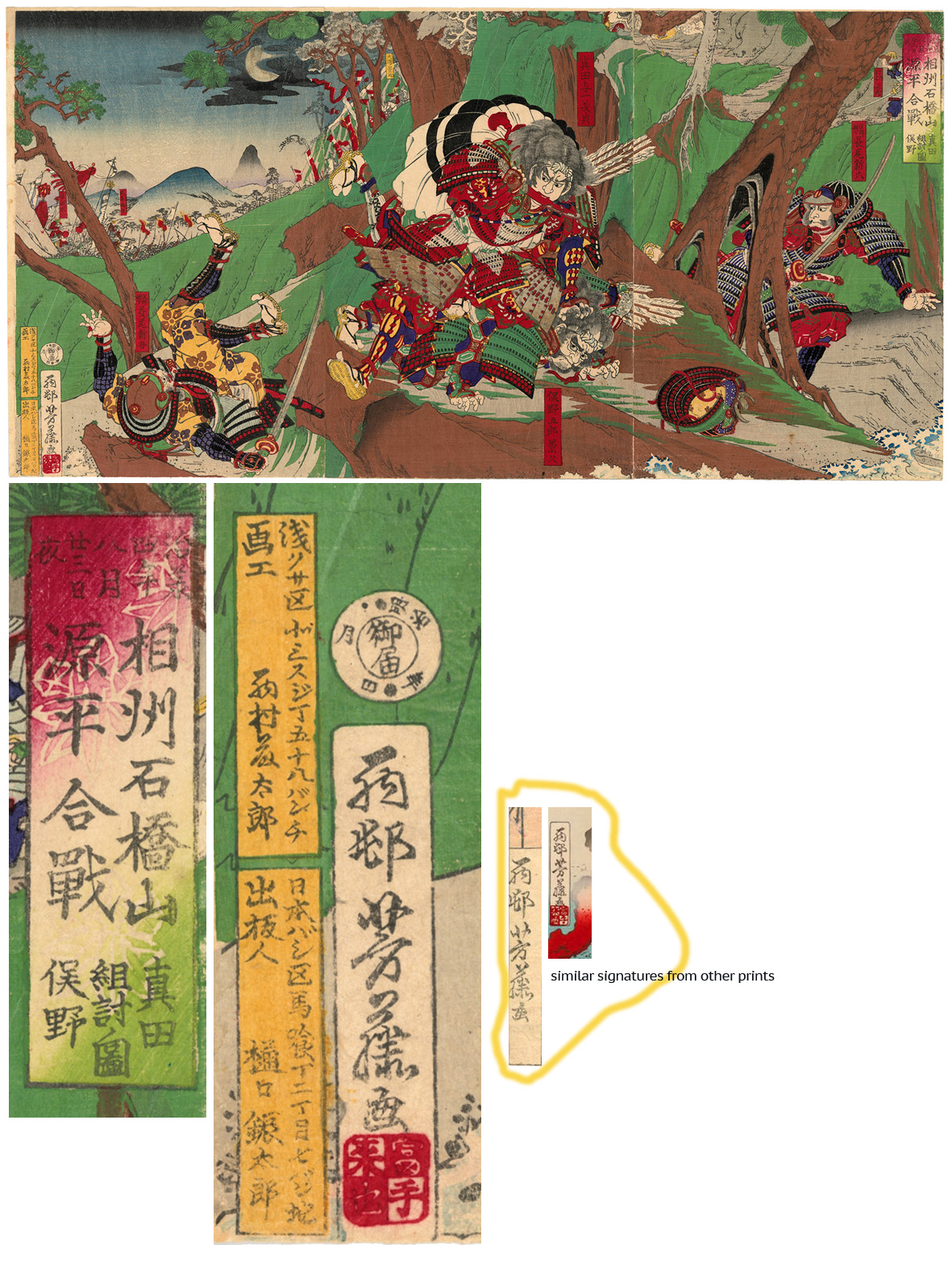 https://data.ukiyo-e.org/uploads/images/8e89d7bf36e5a43bb9de84a953fdb2a7.jpg
Any chance anyone can offer some assistance re this Yoshifuji print?
1. I can't read the signature properly nor do I know anything about the red seal.
Most of his prints appear to be signed 'Ippôsai Yoshifuji ga', either一鵬齋芳藤画 or 一鵬斎芳藤画 according to museum collections. However, some prints (this example included) that I estimate to be c. 1878–1887, published by Higuchi Shintarō 樋口鋠太郎, seem to have a different signature version of (?)(?)芳藤画. Does anyone have a take on this?
2. Can the red seal be used to help date the work, since the date seal has the nen, gatsu, and ka characters but the numerals are absent?
3. I have tried to read the publisher's cartouche which I think is OK (?): Nihonbashiku Bakurochō Nichōme nana banchi: shuppan hito: Higuchi Shintarō日本バシ区馬喰丁二丁目七バン地 出版人 樋口鋠太郎
However, the artist/studio cartouche gives me problems again, principally in relation to who it is: Asakusaku (?) Chō Isoya banchi: Gakō: (?)(?)(?)taro
浅クサ区(? unidentified character)ツスジ丁五十八バンチ 画工 (?)(?)(?)太郎
3. I tried to work out a transcription of the title:
治氶四年八月廿三日夜 相州石橋山源平合戰 真田組討俣野ノ圖
(治承四年八月二十三日夜 相州石橋山源平合戦 真田組討俣野ノ図)
Picture of Sanada Fighting Matano at the Battle of Ishibashiyama in the Genpei [War] in Soshū [Province] on the Night of the Twenty-Third Day of the Eighth Month of the Fourth Year of the Jishō Era [1180]
(Jishō yonen hachigatsu Nijūsan-nichi yoru Soshū Ishibashiyama Genpei kassen Sanada kumiuchi Matano no zu)
The first 2 kanji appear to be 治氶 though the character shō 氶 has some strokes above it that I can't determine: my understanding is that this is the equivalent of 'Jisho' 治承; I note that the MFA Boston also uses 治丞 for 'Jisho' in a very similarly titled work by Utagawa Kuniyoshi.
Any advice, thoughts on the title and its characters?
thanks
Kurt


---
---