unknown red artist seal on goose and moo
---
[ Follow Ups ] [ Post Followup ] [ Ukiyo-e Q & A ]
---
Posted by Judy Hahn (71.126.120.211) on January 03, 2017 at 17:22:16: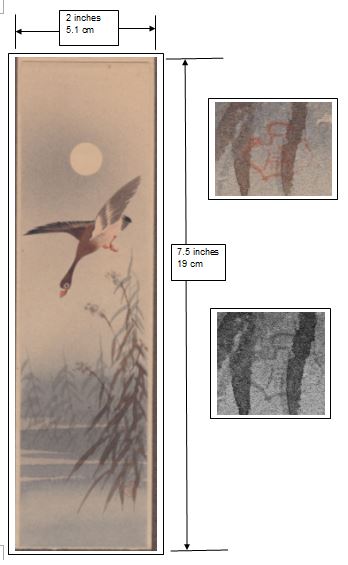 https://data.ukiyo-e.org/uploads/images/c8dd2b48547f67ddaa8bee4ceea65852.jpg
This is a small goose and moon print, smaller in size than a standard tanzaku: 2" x 7.5 inches / 5.1 x 19 cm vs. the standard 3 x 13.6" / 7.5 x 34.5 cm size of a Koho Shoda tanzaku.
It appears to be in the style of Sh˘son and S˘zan, there is nothing of this size in the 1936 Hasegawa catalog - the long narrow size is 8 x 24 cm / 3.5" x 9.5".
The seal is a small red jar printed within the leaves. There are no other marks on the front or the back of the print....none of the made in Japan or Hasegawa / Nishinomiya kanji or catalog numbers found on the Koho Soda and Gesso tanzaku.
I could not find the seal in Merritt and Yamada's list of artist seals, or from any on-line links or a google search.
In case it was a publisher's mark, I also checked Marks; Mark Kahn's site; Gobbi Hon; Artelino's on-line list, to no avail.
So if anyone recognizes this seal, I'd greatly appreciate the information.
Thanks, as always, for everyone's help!
Judy Hahn



---
---