Re: Unknown Artist
---
[ Follow Ups ] [ Post Followup ] [ Ukiyo-e Q & A ]
---
Posted by Hans Olof Johansson (83.255.44.23) on January 13, 2017 at 00:02:28:
In Reply to: Re: Unknown Artist posted by Guy Pepermans on January 11, 2017 at 16:42:20: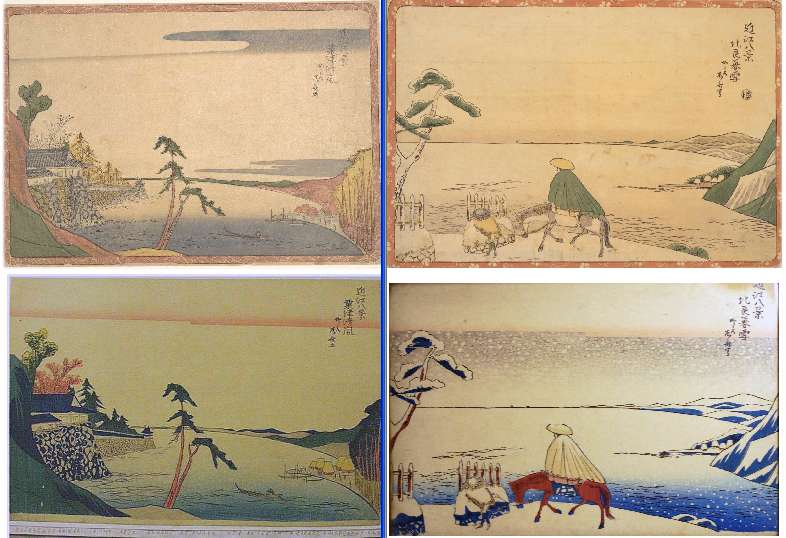 https://data.ukiyo-e.org/uploads/images/a84b1c5c29b05eb1d2ebe4dee6ec366a.jpg
Guy,
I really don't object to anything you say in your response. I merely thought it would be proper to mention that Adam's print most probably wasn't produced in Shinsai's lifetime - and in my opinion several decades after his death.
Above are two copies each of two of the prints in the series: "Awasu no seiran" and "Hira no bosetsu". The upper two seem to be from different editions or states - both possibly published during the artist's lifetime.
One of them carries a kiwame seal and the other doesn't, and the border patterns are slightly different. On the net I have found only one other print, a copy of "Karasaki no yau", with a kiwame seal, and it has the same border pattern as the upper right copy.
As for the remaining two prints, they are in my opinion much later reproductions/reprints. They could perhaps but not necessarily be from the same edition - note for instance the pink band of clouds across the upper half of both prints.
But of course, a definitive verdict on the dating of these prints can not be reached by studying only the photos. However, the fact that only a few copies of them still exist would rather indicate that there haven't been "other, additional Edo period editions".
Best regards,
Hans Olof



---
---