Re: Identification of a print
---
[ Follow Ups ] [ Post Followup ] [ Ukiyo-e Q & A ]
---
Posted by Hans Olof Johansson (83.255.44.23) on January 23, 2017 at 21:52:23:
In Reply to: Re: Identification of a print posted by Paul Griffith on January 22, 2017 at 00:24:20: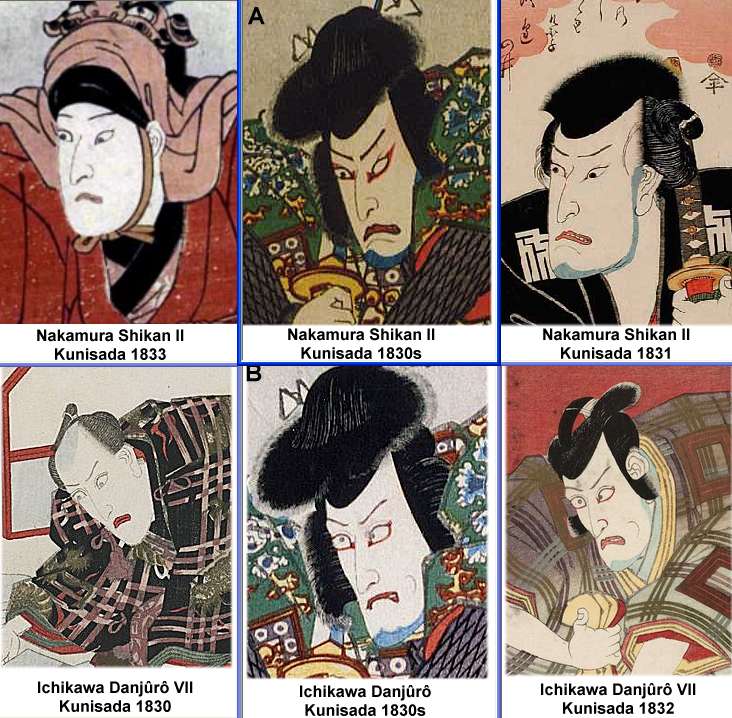 https://data.ukiyo-e.org/uploads/images/ce8cc11e39e9cdb1c664a6e2c5436835.jpg
Paul,
Once again thanks for sharing your expertise in the history of Japanese theatre.
I'm sure you are absolutely right about the dating of the triptych that Georges asked about, but as far as I see you haven't commented on the other version. My collage above illustrates how the facial features of one famous actor have been 'doctored' into representing another famous actor.
After studying the two versions more carefully, I now believe the original version is the one with Ichikawa Danjûrô VII (version B above). Apparently the play is "Ichikawaya Masago no Gohiiki" (市川哉眞砂御攝), performed at the Kawarazaki-za in the 8th month of 1830, when both Danjûrô and Matsumoto Kôshirô V returned to Edo after acting in Osaka - as indicated by the word 'kudari' (下り) in the text (see www.ukiyo-e.se/documents/MetroTriptych.pdf ).
Please correct me, if I'm wrong.
Best regards,
Hans Olof



---
---