Help to identify a riddle print
---
[ Follow Ups ] [ Post Followup ] [ Ukiyo-e Q & A ]
---
Posted by Ger Hungerink (80.101.115.11) on January 25, 2017 at 00:48:00: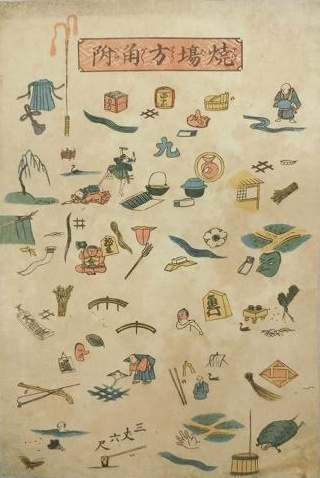 https://data.ukiyo-e.org/uploads/images/dd2c4cb115815f95192fd104016d5b3b.jpg
Please help to identify this print which I understand to be showing a riddled message.
First: The title seems to refer to a district according to this map: http://www.wul.waseda.ac.jp/kotenseki/search.php?cndbn=%88%C0%90%AD%8C%DC%8C%DF%8F%5C%88%EA%8C%8E%8F%5C%8C%DC%93%FA%8F%C4%8F%EA%95%FB%8Ap%95%8D
What does it actually mean?
Second: Any ideas about the solution?
Third: What about the artist?
Fourth: Please an estimate of the age/period of this print.
Thanks a lot for looking at these questions.



---
---