Re: surprising cartouche
---
[ Follow Ups ] [ Post Followup ] [ Ukiyo-e Q & A ]
---
Posted by Hans Olof Johansson (83.255.48.45) on January 30, 2017 at 11:25:51:
In Reply to: surprising cartouche posted by Francis on January 29, 2017 at 10:23:55: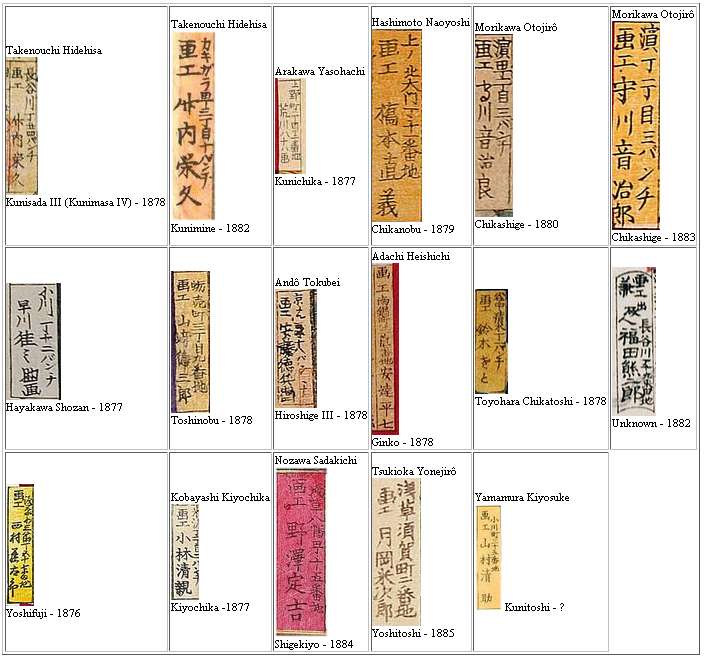 https://data.ukiyo-e.org/uploads/images/da82633a57d8a03fc774157d0cdec262.jpg
Francis,
You can see this type of colophon with publication details on many triptychs that were published from the late 1870s and onwards. Artist names are not included, but usually they give the real name of the artist, following the kanji 画工 (gakô - artist) - see a number of examples above. In your case the real name of the artist seems to be Takahashi Kinnosuke (高橋金之助), and I haven't been able to identify him. His signature should be somewhere in the print, but if your print is just one panel of a triptych, the signature could be in one of the other panels.
The name in the leftmost column is Utagawa Kunitsuru (歌川国鶴), not Kuniteru, and he is the publisher (出版人 - shuppanjin), not the artist.
Seeing the whole print, would probably be helpful.
Best regards,
Hans Olof



---
---