Re: Woodcut identification.
---
[ Follow Ups ] [ Post Followup ] [ Ukiyo-e Q & A ]
---
Posted by Hans Olof Johansson (83.255.49.27) on March 28, 2017 at 17:36:20:
In Reply to: Re: Woodcut identification. posted by Plasmo on March 28, 2017 at 12:51:15: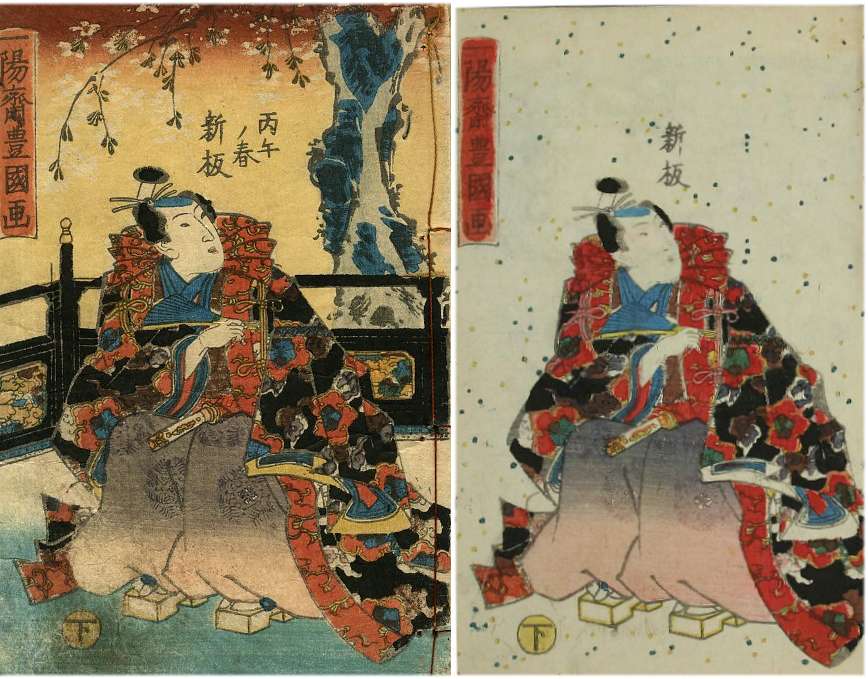 https://data.ukiyo-e.org/uploads/images/89190871dbdfb089b46a738f61038137.jpg
Vernon,
I'm definitely not an expert in Japanese books, but in my humble opinion Plasmo is quite right when suggesting that yours is an earlier edition than the copy displayed on the Waseda site - possibly even a first edition. Apparently they were partly printed with the same woodblocks, but they appear to have been much more torn when used for the Waseda edition (see above).
Though Kunisada appears to be the main author of the pictures, there is also another signature on what appears to be the title page of your book (http://wieringbooks.com/bindersticket/wp-content/uploads/2017/03/colophon019.jpg): 豊国門人国麿画 ("painted by Toyokuni's pupil Kunimaro").
Best regards,
Hans Olof


---
---