Yoshinobu signature
---
[ Follow Ups ] [ Post Followup ] [ Ukiyo-e Q & A ]
---
Posted by Chris Brooks (136.33.43.188) on April 07, 2018 at 02:31:31: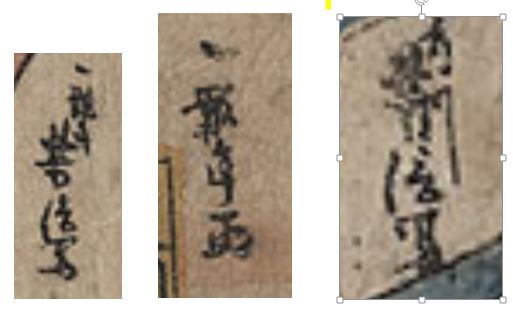 https://data.ukiyo-e.org/uploads/images/d23abf5110a0e709d414812143336c37.jpg
On 4/2/18 I published a query about the signature on a low quality print but received no response. It appears the print may be a smaller version of a triptych as I see what appears to be three signatures on what would likely be the three panels. It's hard to make out the characters since the print is small but I've attached an image of the three signatures. In checking some sources I am wondering if the name might be Yoshinobu. I see there are at least three Yoshinobu's active in the 1700's and another three active in the 1840's to 1860's. This print could be from one the latter three. Can anyone review the signatures and determine if the name might be Yoshinobu?
Thanks
Chris


---
---