Is this an artist signature?
---
[ Follow Ups ] [ Post Followup ] [ Ukiyo-e Q & A ]
---
Posted by Chris Brooks (136.33.43.188) on April 11, 2018 at 22:28:58: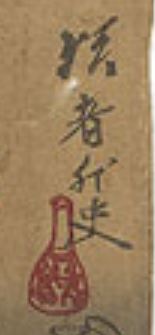 https://data.ukiyo-e.org/uploads/images/c27c2e456395258b06557825b2aa88a3.jpg
I have a pillar type print of a courtesan standing on a dragon possibly trimming a wisteria. The only characters and symbols are in the attachment being 4 characters and a red symbol like a jug. There is no recognizable publisher, artist or censor seal. Could this be the artist signature and is the seal an artist seal or a publisher seal?
Thanks
Chris


---
---