Publisher seal
---
[ Follow Ups ] [ Post Followup ] [ Ukiyo-e Q & A ]
---
Posted by Chris Brooks (136.33.43.188) on April 16, 2018 at 22:02:11: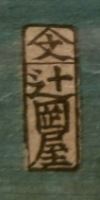 https://data.ukiyo-e.org/uploads/images/a95296c552237a9e2a1c0ad480cd54b2.jpg
I have a Toyokuni III print from 1853 but I am unable to identify the publisher. I've consulted Andreas Marks " Publishers of Japanese Woodblock Prints" and have been unable to identify the seal unless I have missed it among the hundreds of examples. Is anyone familiar with this seal?
Thanks
Chris


---
---