Re: unknown print part 2
---
[ Follow Ups ] [ Post Followup ] [ Ukiyo-e Q & A ]
---
Posted by Hans Olof Johansson (83.249.190.125) on April 23, 2018 at 15:03:47:
In Reply to: unknown print part 2 posted by Erik Beerling on April 23, 2018 at 12:16:48: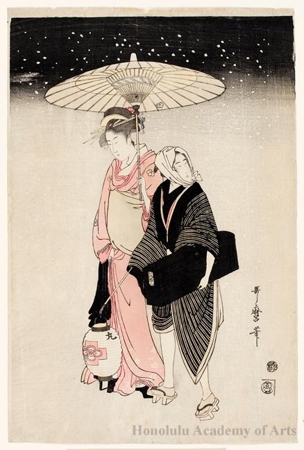 https://data.ukiyo-e.org/honolulu/images/8248.jpg
Erik,
Oroginally, this print was designed by Utamaro and published in the late 1790s. Yours is a 20th century reproduction, where the censor's seal of the original (kiwame) has been replaced by the publisher's seal of Hasegawa, and the original publisher's mark of Tsuruya Kinsuke omitted altogether.
The print has no title, but it depicts a geisha and her male attendant walking through the snow at night.
Best regards,
Hans Olof



---
---