Re: unkown
---
[ Follow Ups ] [ Post Followup ] [ Ukiyo-e Q & A ]
---
Posted by Hans Olof Johansson (83.253.19.237) on May 11, 2018 at 18:43:26:
In Reply to: unkown posted by Francis on May 08, 2018 at 17:50:30: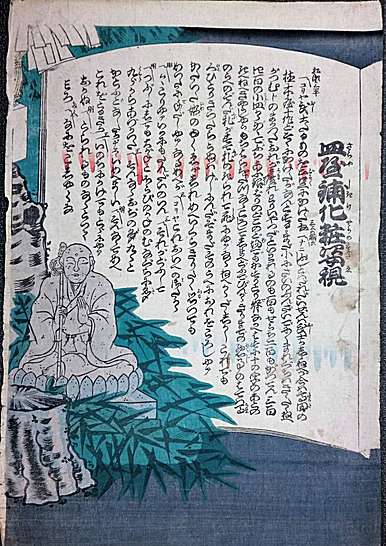 https://data.ukiyo-e.org/uploads/images/130d93c75b7d46ba3dfeb009c9cc06b8.jpg
Francis,
I don't know who the artist is, and I can't figure out much about the print, but apparently it has something to do with theatre. The heading reads 皿屋舗化粧姿視 (Sarayashiki kesho no sugatami), which is the title of a play. In English it is usually referred to as "The mansion of plates" or "The manor of dishes", which is a translation of the first three characters (皿屋舗, also written 皿屋敷).
Best regards,
Hans Olof


---
---