Re: Kunisada etching.
---
[ Follow Ups ] [ Post Followup ] [ Ukiyo-e Q & A ]
---
Posted by Alec W. (204.183.95.254) on May 31, 2018 at 19:17:31:
In Reply to: Kunisada etching. posted by Martin on May 31, 2018 at 15:21:31: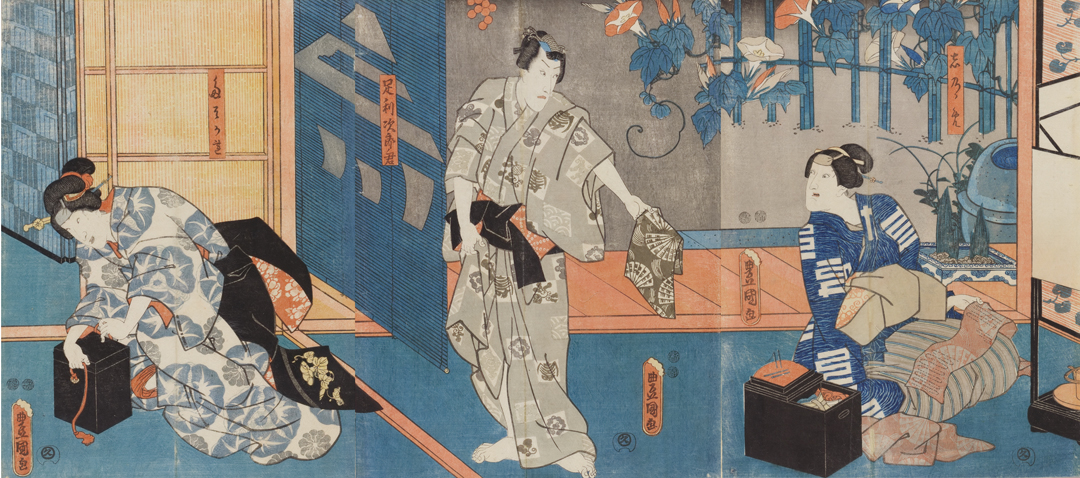 http://www.bonsai-art-museum.jp/wp-content/uploads/2015/03/8-D_002_20091225_trim.jpg
Yes, you are correct that the print is by Kunisada. The publisher mark is that of Ibaya Kyūbei.
This appears to be the center panel of a triptych; see the full design here:
http://www.bonsai-art-museum.jp/ja/collection/e-002/
This particular panel has the text 「足利次郎ノ君」 ("Ashikaga Jirō no kimi"), the name of a role in the play "Genji Moyō Furisode Hinagata". It was originally published for a run of that play in 1851. The actor playing this role was Ichikawa Danjuro VIII.
There don't seem to be any carver or printer marks on any of the panels.
Also see this Kunisada triptych of the same play by a different publisher:
https://www.mfa.org/collections/object/486520


---
---