Re: Signed but unidentified woodblock
---
[ Follow Ups ] [ Post Followup ] [ Ukiyo-e Q & A ]
---
Posted by Alec W. (76.98.178.51) on July 22, 2018 at 03:33:58:
In Reply to: Signed but unidentified woodblock posted by Ara on July 22, 2018 at 02:38:12: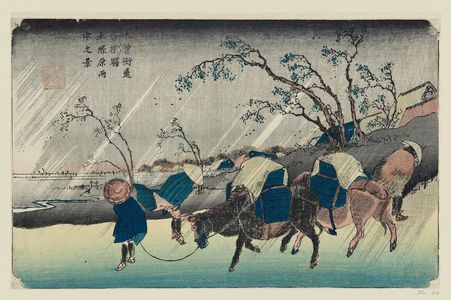 https://data.ukiyo-e.org/mfa/scaled/sc207575.jpg
The design is "No. 20, Kutsukake Station: Rain on the Plain of Hiratsuka" ("Kutsukake no eki, Hiratsuka hara uchű no kei"), from the series "The Sixty-nine Stations of the Kisokaidô Road" by Keisai Eisen:
https://www.mfa.org/collections/object/176415
This series was a collaboration between Eisen and Hiroshige; Eisen's designs date to around 1835.
I am not exactly sure what the signature on your print is; it is not present on original versions of the design. Some versions do have text in the position of the signature on yours, like this one, which also has an "Eisen ga" signature at the lower right:
https://www.mfa.org/collections/object/216907
I see that FAMSF has a print like yours:
http://art.famsf.org/keisai-eisen/kutsukake-pl-20-facsimile-edition-sixty-nine-stations-kiso-highway-kisokaido-rokujukyu
They describe it as a 20th-century facsimile, but offer no other useful information.


---
---