Re: Identify artist
---
[ Follow Ups ] [ Post Followup ] [ Ukiyo-e Q & A ]
---
Posted by Alec W. (204.183.95.254) on July 30, 2018 at 21:02:13:
In Reply to: Re: Identify artist posted by Chris Brooks on July 13, 2018 at 21:36:12: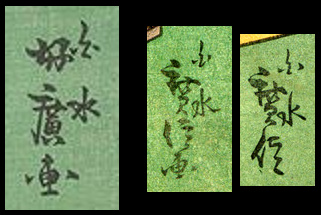 https://data.ukiyo-e.org/uploads/images/261b128996c231ce543caee26074cfad.jpg
So this thread is old and this answer may be buried, but...
I found something interesting that may be an answer, or at least a clue. One of the many art names used by Goyōtei Hironobu was "白水", which appears to be the same text as appears next to the right of the two signatures on your print. So maybe this is an obscure Hironobu signature, or a student of his?
http://www.hankyu-bunka.or.jp/archive/?app=shiryo&mode=detail&data_id=202715
http://www.hankyu-bunka.or.jp/archive/?app=shiryo&mode=detail&data_id=202712


---
---