Re: Artist Identity
---
[ Follow Ups ] [ Post Followup ] [ Ukiyo-e Q & A ]
---
Posted by Chris Brooks (136.33.43.188) on August 26, 2018 at 02:08:05:
In Reply to: Re: Artist Identity posted by Alec W. on August 26, 2018 at 00:04:28: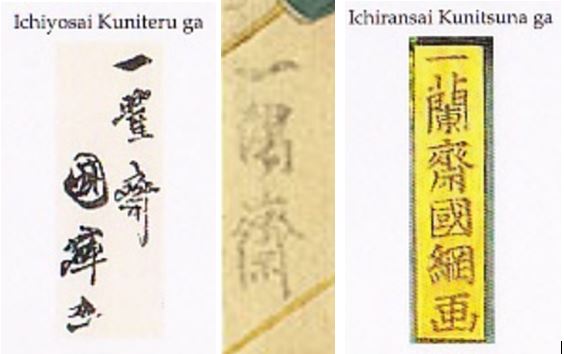 https://data.ukiyo-e.org/uploads/images/2290eed3d3a51b6bd9291eff4f5b6401.jpg
Thanks Alec
Like you said the signature is really faded and likely trimmed. I like the print but would prefer to know the name of the artist before I decide if I want to purchase it. I looked at the link and I still don't know. I was looking on the https://ukiyo-world.com/signatures-estampes-japonaises/ site and the closest I could come to was Kuniteru II\Kunitsuna II. I looked at the publisher seal in Marks and it is for Marukiken, who he says was only active in the mid 1840's. Did Kunisada use this go name after he began signed as Toyokuni? I appreciate your help and will keep on looking.
Thanks
Chris



---
---