Yoshitsune Ichi dai Zu-ye - rarity?
---
[ Follow Ups ] [ Post Followup ] [ Ukiyo-e Q & A ]
---
Posted by Koronaut (206.211.34.4) on September 07, 2018 at 00:14:43: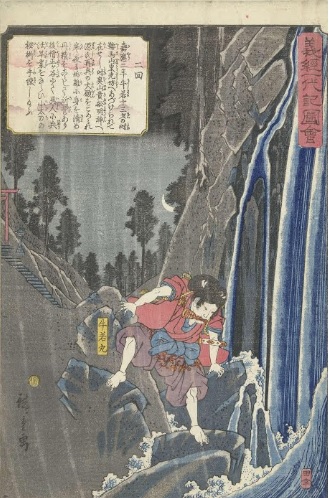 https://data.ukiyo-e.org/uploads/images/65dd1b607b957144b04fd4991e8ebb40.jpg
I finally identified this Hiroshige print that has been hanging on my wall as one that is mentioned in Stewart's Guide to Japanese Prints. It mentions it as extemely rare; issued during the Prohibition; engraver's seal Tako. It shows the youthful Yoshitsune during his novitiate at the temple of Kurama-yama making his nightly journey to the waterfall.
I was wondering if anyone has ever seen one of these before. I can only find one google image reference and that is at the Rijksmuseum.


---
---