Re: image and signature identification
---
[ Follow Ups ] [ Post Followup ] [ Ukiyo-e Q & A ]
---
Posted by Alec W. (204.183.95.254) on October 16, 2018 at 17:02:50:
In Reply to: image and signature identification posted by Dorothy Woll on October 16, 2018 at 05:29:41: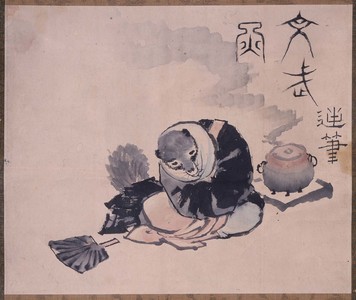 https://data.ukiyo-e.org/uploads/scaled/d80fe51e516ce8d8c4ba384c26d8d2f3.jpg
The signature is Hokusai's, signing 卍老人筆 ("Manji Rojin hitsu"). I think the smaller text indicates that he was 89 years old at the time.
I haven't been able to find any publication information related to this design, and I'm not even sure if the design was intended as a print at all, or if it was executed as a scroll painting and then later published in print form?
See also this scroll paining with a closely-related design at the MFA:
http://educators.mfa.org/asia/tea-kettle-raccoon-painting-executed-upside-down-16053


---
---