Re: Which Hiroshige?
---
[ Follow Ups ] [ Post Followup ] [ Ukiyo-e Q & A ]
---
Posted by Alec W. (76.98.179.206) on October 18, 2018 at 05:16:07:
In Reply to: Which Hiroshige? posted by Chris Brooks on October 18, 2018 at 03:10:30: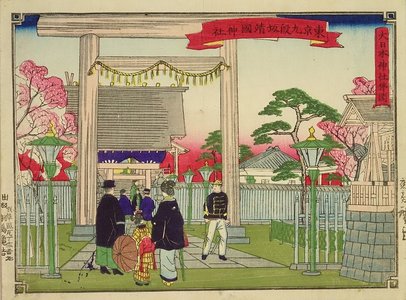 https://data.ukiyo-e.org/uploads/scaled/a4976b2810a6342935e6f7f2571aab0c.jpg
Hara Shobo and Yamada-Shoten both list different prints from what I take to be the same series that your print is from, "Temples and Shrines of Great Japan" ("Dai Nihon jinja bukkaku", 大日本神社仏閣).
They both list the artist as Hiroshige III, and the publish date as 1880.
I haven't been able to locate the design you have anywhere, nor any design from this series in an institutional collection.
See:
https://www.harashobo.com/english/ukiyoe_detail.php?print_id=25882
http://www.yamada-shoten.com/onlinestore/detail.php?item_id=47582


---
---