Re: hiroshige print help -- with ima
---
[ Follow Ups ] [ Post Followup ] [ Ukiyo-e Q & A ]
---
Posted by Alec W. (76.98.179.206) on October 27, 2018 at 04:28:06:
In Reply to: Re: hiroshige print help -- with ima posted by Taylor on October 27, 2018 at 03:06:31: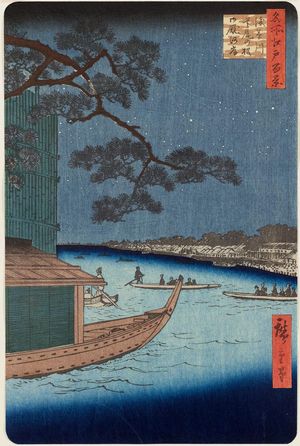 https://data.ukiyo-e.org/mfa/scaled/sc206395.jpg
I wondered the same thing, Taylor. However, I haven't found any evidence to support such a hypothesis. And as far as I know, Hiroshige II never issues a series using the series title on your print, Meisho Edo hyakkei.
But I have noticed something else...
Your print uses the exact same title and series title as a print in Hiroshige I's "One Hundred Famous Views of Edo" (名所江戸百景, "Meisho Edo hyakkei"), the design "Pine of Success and Oumayagashi, Asakusa River" (浅草川首尾の松御厩河岸, Asakusagawa Shubi no matsu Oumayagashi).
It shares a similar but, again, not identical design to the print you have:
https://www.mfa.org/collections/object/246371
Perhaps your print was issued by a publisher who felt that the original design was lacking in consumer appeal, and "enhanced" it to improve sales?


---
---