Re: Kunichika mystery
---
[ Follow Ups ] [ Post Followup ] [ Ukiyo-e Q & A ]
---
Posted by Deriaki (176.115.28.198) on November 01, 2018 at 17:46:49:
In Reply to: Re: Kunichika mystery posted by Hans Olof Johansson on November 01, 2018 at 16:29:19: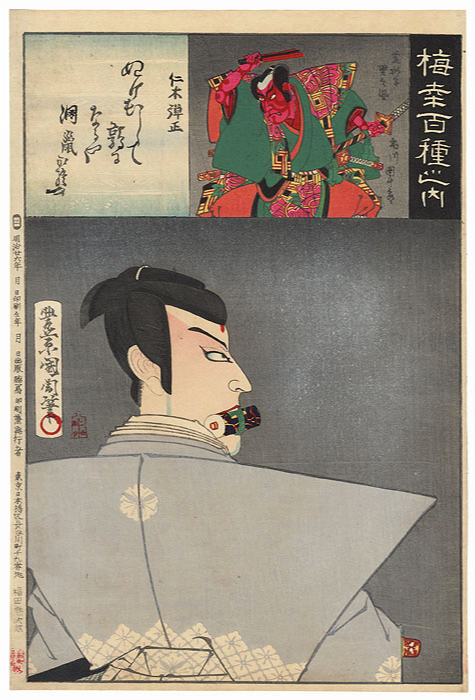 https://data.ukiyo-e.org/uploads/images/0d5a7c95dc658bb2e2af6bf4f5d443e7.jpg
Thank you so much Hans,
I really appreciate you are investing your time in this. Maybe it turns into at least a little bit of a mystery after all.
I recently acquired the triptych through an auction and once I started researching a few questions arose (not an expert obivously).
The left panel from Waseda was, as you stated, from yet another version with different writing and I agree that the date/artist combination is strange there...
I've seen the 1882 versions (https://www.ebay.com/itm/391549553737?rmvSB=true is out there as well) and they obviously have the same characteristics.
But I couldn't help noticing this (added as an attachment to the post) Kunichika design dated 1893 from the '100 roles of Baiko' series where the patterning of the kimono matches the one I came across.
So in the end I suppose it's safe to assume that this is the last Kunichika print to depict this particular Kabuki scene?
To me, partly due to my work as a graphic designer, it's interesting how these settings (actors / scene of the play / date) influence the final result of the print (the changing of the crest on the kimono for example...)
And do you think, as an expert, that the darker coloration on the right two panels are intended or just a sign of the times / storing of the print?
Really looking forward to your reply, your expertise is greatly appreciated.
---
---