Re: Help identify this print
---
[ Follow Ups ] [ Post Followup ] [ Ukiyo-e Q & A ]
---
Posted by Alec W. (76.98.179.206) on November 03, 2018 at 04:16:07:
In Reply to: Help identify this print posted by Eric Armstrong on November 03, 2018 at 00:48:54: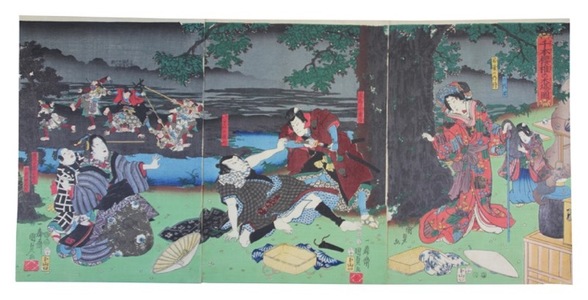 https://data.ukiyo-e.org/uploads/scaled/fbb07e3c4bca8fec182433d4b44eb5f7.jpg
The artist is Kunisada II, and the print is dated 1853, 10th month. This is the right sheet of a triptych design.
There is a copy of this sheet listed by Ritsumeikan University's Art Research Center:
http://www.dh-jac.net/db/nishikie/results-big.php?f1[]=arcUP0168&f11[]=1
I've found a (small) image of the full triptych in a retail listing as well:
http://fukuchishoten.com/index.php?main_page=product_fukuchi_info&products_id=45825
I don't know what the subject matter is.


---
---