Harukawa Eizan
---
[ Follow Ups ] [ Post Followup ] [ Ukiyo-e Q & A ]
---
Posted by Chris Brooks (136.33.43.188) on November 06, 2018 at 22:18:00: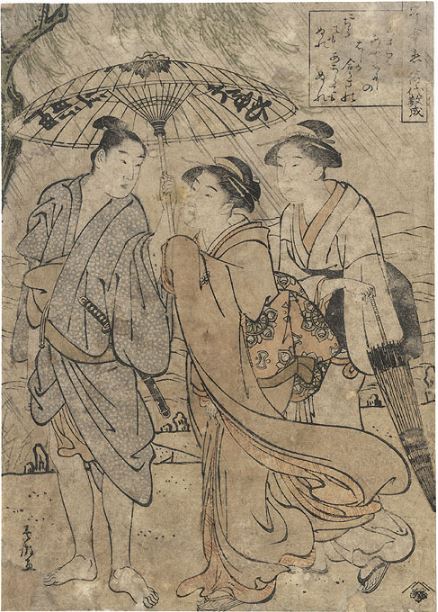 https://data.ukiyo-e.org/uploads/images/9ed28554cf517ec53738bddfb0ccad07.jpg
On October 31 I posted this image and Alec gave some assistance on identifying the artist but with no certainty on who it was unless it was an unknown Shunsen. He suggested the name could be Harukawa Goshichi but the signature and style weren't quite the same. Goshichi did sign many of the prints found in ukioy-e.org as Harukawa ga but the signature, while similar, didn't appear to be the same. I did some checking and somehow stumbled upon the mention of Harukawa Eizan being a ukioy-e artist in the 1790's who may have been a student of Eishi and was the teacher of Goshichi. I found a print by Eishi that is very similar in style and composition to the print I posted so I will repost my print as well as the print by Eishi. My question then would be could the artist be Harukawa Eizan, since I can't seem to find any prints of this artist to compare to.
Thanks
Chris


---
---