Re: Harukawa Eizan
---
[ Follow Ups ] [ Post Followup ] [ Ukiyo-e Q & A ]
---
Posted by Guy Pepermans (84.197.53.216) on November 09, 2018 at 12:13:35:
In Reply to: Harukawa Eizan posted by Chris Brooks on November 06, 2018 at 22:18:00: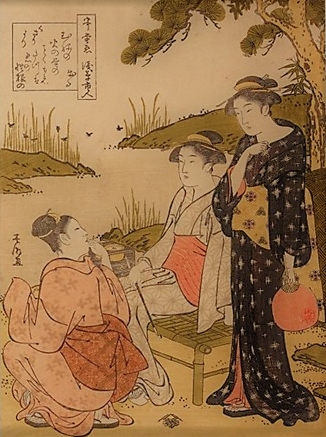 https://data.ukiyo-e.org/uploads/images/bcb4c2b76d247150a1912e7c1317e759.jpg
Hi all,
This print was indeed designed by Katsukawa Shunchō and is part of a series 'Hotaru ni yoseru koi' (寄蛍恋), published by Tsutaya Jūzaburō c.1785-86. Don't know if the reading of the title is entirely correct but it is mentioned as such in Andreas Marks 'Publishers of Japanese Woodblock Prints: A Compendium' (Publisher 555, P0451, p. 321).
I add an image of another print from this series.

Guy.
---
---