Is this an artist signature?
---
[ Follow Ups ] [ Post Followup ] [ Ukiyo-e Q & A ]
---
Posted by Chris Brooks (136.33.43.188) on November 12, 2018 at 02:15:23: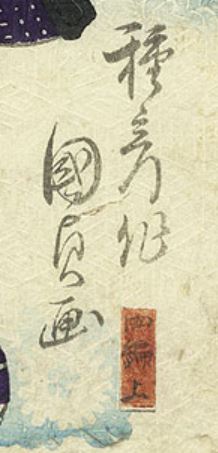 https://data.ukiyo-e.org/uploads/images/bf53e596edd0b05a99526b40b4816a6b.jpg
I'm looking at some small prints (7"x4.5")with various characters and I see some that look like they may be the characters of an artist signature. To me the first character looks like 'Kuni' and the last 'ga' and the third is not anything I could guess. Is this a signature or just part of the text?
Thanks
Chris


---
---