Re: Is this an artist signature?
---
[ Follow Ups ] [ Post Followup ] [ Ukiyo-e Q & A ]
---
Posted by Alec W. (76.98.179.206) on November 15, 2018 at 04:41:30:
In Reply to: Re: Is this an artist signature? posted by Hans Olof Johansson on November 12, 2018 at 10:36:12: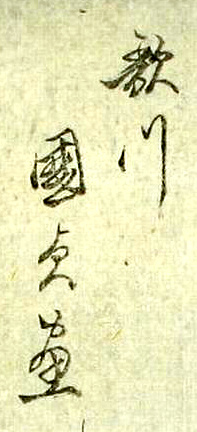 https://data.ukiyo-e.org/uploads/scaled/6b7673075ef552fae79b7ac02ee35d80.jpg
On a (somewhat) related note, I just bumped into an analogous signature by Kunisada I on a book design from 1812:
http://www.wul.waseda.ac.jp/kotenseki/html/bunko10/bunko10_08051_0008/index.html
Not necessarily pertinent to the question at hand; I just thought it was interesting...


---
---