Re: Print/orihon info
---
[ Follow Ups ] [ Post Followup ] [ Ukiyo-e Q & A ]
---
Posted by Alec W. (204.183.95.254) on November 20, 2018 at 17:28:27:
In Reply to: Print/orihon info posted by T R Crown on November 20, 2018 at 16:40:40: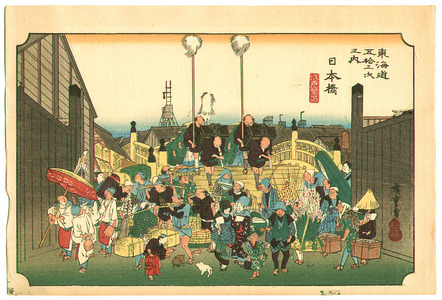 https://data.ukiyo-e.org/artelino/scaled/14142g1.jpg
This design comes from Hiroshige's Fifty-three Stations of the Tōkaidō Road, originally published 1833-1834. The print you've included is taken from recarved blocks. I see that Artelino lists a print that looks much like yours, including the color-inverted seal near the title:
https://ukiyo-e.org/image/artelino/14142g1
Their listing says "edition was published probably in early 20th century".
Is there a cover or title page in your book that might shed some more light on the publication?


---
---