Re: Artist Identity
---
[ Follow Ups ] [ Post Followup ] [ Ukiyo-e Q & A ]
---
Posted by Alec W. (76.98.179.206) on December 08, 2018 at 03:19:33:
In Reply to: Re: Artist Identity posted by Guy Pepermans on December 07, 2018 at 21:16:11: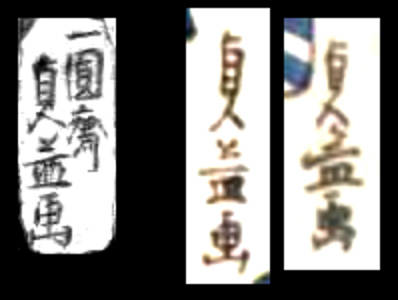 https://data.ukiyo-e.org/uploads/images/d697d489573c3d16fb96951ce5205b07.jpg
That's a great resource, Guy, thanks for the link!
So, looking through the prints included in that catalog, I do see one print where he signs 貞益:
http://www.huysdenesch.com/ENG/sadamasu/sadamasu-work/item-222
I went ahead and put the signatures together with the one that started this thread, and ... it's not a bad match. No slam dunk, but at least... plausible.
I do hope Chis does get in touch with Jan van Doesburg and shares the findings with us!


---
---