Re: Kiyochika Kobayashi print
---
[ Follow Ups ] [ Post Followup ] [ Ukiyo-e Q & A ]
---
Posted by Hans Olof Johansson (83.252.88.54) on December 08, 2018 at 10:37:29:
In Reply to: Re: Kiyochika Kobayashi print posted by Gordon on December 07, 2018 at 23:40:56: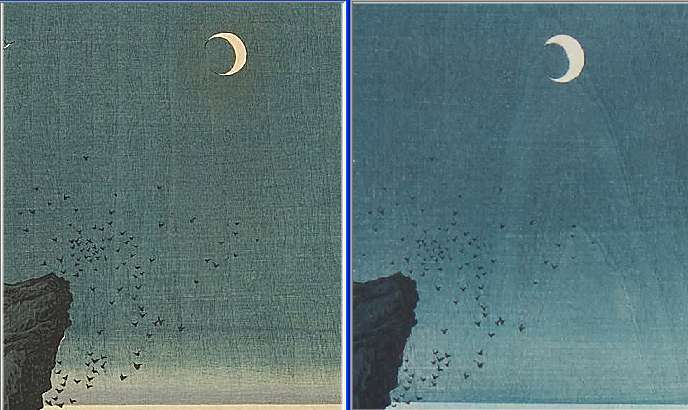 https://data.ukiyo-e.org/uploads/images/22db891d4173b291e8e2fee62bb015cf.jpg
My German is a bit rusty - to say the least - but I believe Gordon refers to the different woodgrain patterns in two copies of what otherwise appears to be the same edition of the triptych (see above). These differences would indicate that the three woodblocks used for the sky have been replaced at some point in the process, while the other blocks, or at least some of them, seem to be the same.
About the use of woodgrain patterns as an integral part of ukiyo-e prints, see John Fiorillo's article:
https://www.viewingjapaneseprints.net/texts/topics_faq/woodgrain.html
As for the stars - as well as the moon - Gordon points out that they were cut out of the blocks printing the sky. That's why they also look different as a result of the woodblock replacements.


---
---