Re: Help with unknown ukiyo-e beauty pri
---
[ Follow Ups ] [ Post Followup ] [ Ukiyo-e Q & A ]
---
Posted by Alec W. (76.98.179.206) on December 16, 2018 at 04:24:20:
In Reply to: Help with unknown ukiyo-e beauty print posted by Gregory Pearson on December 16, 2018 at 01:28:08: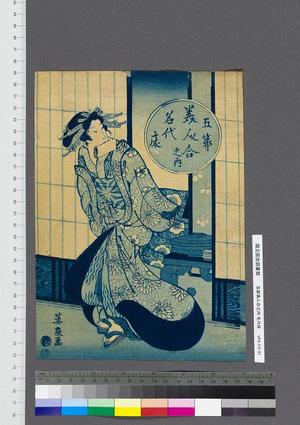 https://data.ukiyo-e.org/uploads/scaled/a073a00895b27cca02407c911d4abb73.jpg
The artist is Keisai Eisen, signing "Eisen ga" (英泉画).
There is a copy of this print in the collection of the National Diet Library:
http://www.dl.ndl.go.jp/info:ndljp/pid/9369507
The text reads "五節美人合之内 名代床", which I am not entirely sure how to translate, but is something about the beauties (bijin) of the FIve Festivals (gosechi). Hopefully someone with meaningful Japanese language skills will chime in!


---
---