Re: ID artist and series
---
[ Follow Ups ] [ Post Followup ] [ Ukiyo-e Q & A ]
---
Posted by Alec W. (204.183.95.254) on January 08, 2019 at 21:30:51:
In Reply to: ID artist and series posted by susan fentress on January 08, 2019 at 17:16:45: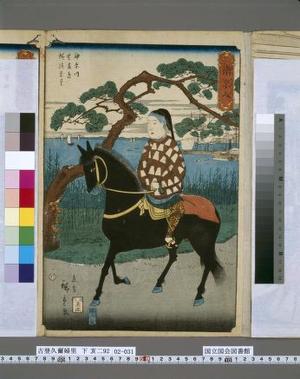 https://data.ukiyo-e.org/uploads/scaled/b5dc35dde7927cb88fb2cc0705de362d.jpg
You are correct that the signature is that of one of the Hiroshiges, in this case reading "Ōju Hiroshige ga" (應需廣重画). It's pretty much impossible, in my experience, to distinguish between these artists based on signature alone, particularly I vs. II, so typically it's best to try to date the design first. Here we see a censor/date seal for 1861, 2nd month, so that tells us this must be Hiroshige II.
Helpfully, there is a copy of this print in the National Diet Library Digital Collections:
http://dl.ndl.go.jp/info:ndljp/pid/1312516?itemId=info%3Andljp%2Fpid%2F1312516&__lang=en
NDL appears to regard this print as either belonging to an untitled series, or not belonging to a series at all.
They also provide transcriptions of the text. The title is given as 南京人 (not sure of the reading, but I think it means "Chinese person"), and the other text as 神奈川生麦辺横浜遠望 (again not sure of reading, seems to mean something along the lines of "Kanagawa countryside with a distant view of Yokohama"). Hopefully someone here can provide a more precise/correct reading!


---
---