Artist of Tiger print
---
[ Follow Ups ] [ Post Followup ] [ Ukiyo-e Q & A ]
---
Posted by Chris Brooks (136.33.70.205) on January 19, 2019 at 00:08:13: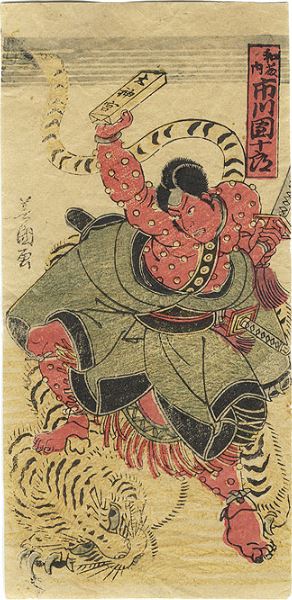 https://data.ukiyo-e.org/uploads/images/d47d352daea92b6ad1955e09dbe8fbb9.jpg
Hello
I have a small print, about hoban size, with what appears to be the signature of an obscure artist and possibly a title but no publisher or censor seals. It is on very thin paper with excellent bleed of the blue and red ink. The first character of the signature is hard to read but to my untrained eye the signature could read Yoshikuni ga. I didn't find a match in the ukiyo-e.org database but I found a print by Yoshikuni of similar size and signature held at the Boston Museum of Fine Arts.
https://www.mfa.org/collections/object/pulling-down-the-tree-of-misfortune-fukeiki-no-nedayashi-319638
Any assistance with the name of the artist is appreciated.
Thanks
Chris


---
---