Re: Please Help me accurately identify
---
[ Follow Ups ] [ Post Followup ] [ Ukiyo-e Q & A ]
---
Posted by Hans Olof Johansson (83.252.89.32) on January 23, 2019 at 22:50:15:
In Reply to: Please Help me accurately identify posted by Amy Reed on January 23, 2019 at 21:17:57: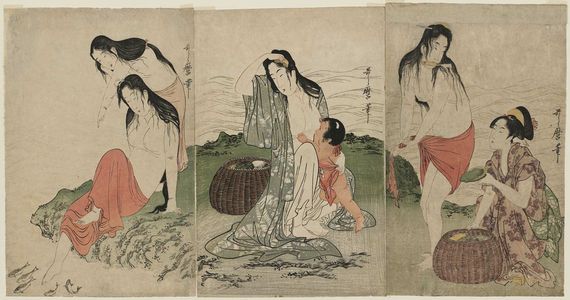 https://data.ukiyo-e.org/mfa/scaled/sc162572.jpg
Amy,
Your prints are panels from a triptych designed by Utamaro and originally published in the late 1790s - for more information, see https://ukiyo-e.org/image/mfa/sc162572.
They appear to be in very bad shape and look quite old, but this triptych has been reproduced lots of times since the early 20th century, and sometimes these reproductions have been deliberately maltreated to look older. It's impossible to decide from your photos, but my guess would be that yours are modern reproductions.
Best regards,
Hans Olof


---
---