Re: help ID the print
---
[ Follow Ups ] [ Post Followup ] [ Ukiyo-e Q & A ]
---
Posted by Alec W. (76.98.179.206) on February 09, 2019 at 22:12:48:
In Reply to: help ID the print posted by susan fentress on February 09, 2019 at 20:16:29: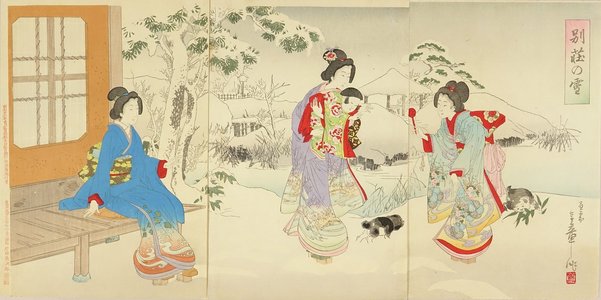 https://data.ukiyo-e.org/uploads/scaled/b0e33a892d66e32cd5aafb611d4ab415.jpg
This is the right sheet of a triptych by Nakazawa Toshiaki, here signing just 年章 (Toshiaki).
Hara Shobo has a listing for a copy of the full design:
https://www.harashobo.com/ukiyoe/ukiyoe_detail.php?print_id=25778
They give the title as 別荘の雪 and assign a publication date of 1895. I notice that your copy features a simplified version of the signature vs Hara Shobo's, so clearly yours is from a different printing than theirs.


---
---